Discover more from Things I Write. ✍🏽
A weekly newsletter championing the peak of Human Endeavor and discussing the business of Venture Capital. Written by Adam Draper, Founder and MD of Boost VC. A PreSeed Fund for Deep Tech.
Over 1,000 subscribers
1992 Marvel Masterpiece, Spider-man vs Venom!
Last Week I auctioned off a Michael Jordan Rookie card for Bitcoin. This week I am auctioning off something much more rare.
This Week's Auction:
1992 Marvel Masterpiece, Spider-man vs. Venom (Foil)
Reply to this email to bid for the card! Reply with the bid amount and crypto you wish to use to buy it.
Wednesday - Collectibles for Bitcoin
When I was in 2nd grade, Marvel Masterpiece were THE currency. Not pogs, not magic cards. It was Marvel Masterpiece. The first set of Marvel Masterpiece cards came out in 1992, every card was carefully illustrated by Joe Jusko. Joe Jusko's art brought out a darker side of the comic book heroes and villains. The art on them was uncanny. The only truly great set of comic cards was the 1992 Marvel Masterpiece set issued by Skybox.
At home, (My brothers and sisters can attest) our deal in order to earn such a pack of cards was in the form of physical fitness. 1 pack of cards for 100 laps of swimming in a pool. I ended that summer earning 6 packs of cards.
I would grade the condition a 7.5 on a 10 scale. There is only one corner where there is a tinge of scuff barely noticeable.
So today, I am auctioning off some of my first hard earned money… a card with my favorite super- hero on it.
In order to bid for the card, reply to this email with a $ price, and I will choose the highest bid, and in the next week announce what was paid for it. I will only accept Bitcoin (or other Crypto) as payment.
Starting Bid: $10.25 (USD)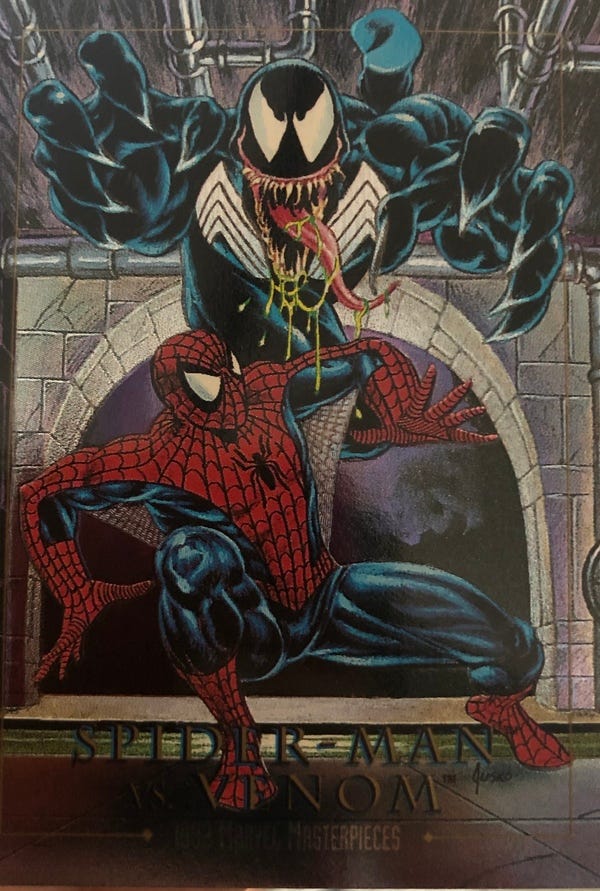 1992 Marvel Masterpiece, Spider-Man vs Venom (Foil).
By Adam Draper
I ponder as a VC.
It's a quick one minute read to make you think, smile, or laugh.
If you don't want these updates anymore, please unsubscribe here
If you were forwarded this newsletter and you like it, you can subscribe here
Powered by Revue