Discover more from Things I Write. ✍🏽
A weekly newsletter championing the peak of Human Endeavor and discussing the business of Venture Capital. Written by Adam Draper, Founder and MD of Boost VC. A PreSeed Fund for Deep Tech.
Over 1,000 subscribers
Solving for Shared Experiences in XR (Podcast)
I got to interview Anjney Midha, Founder and CEO of Ubiquity6.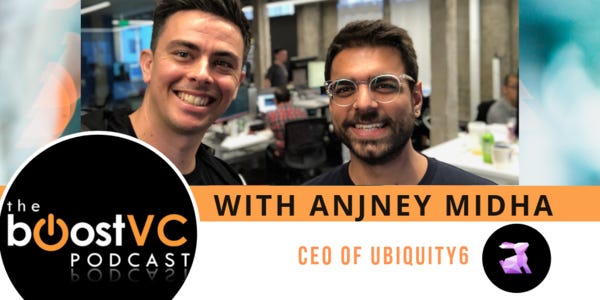 I got a chance to interview Anjney Midha, CEO of Ubiquity6 on the Boost VC Podcast, and it was an awesome talk: LISTEN HERE
Topics
Venture Capital Perspectives

AR/VR

How Audio is also Augmented Reality

What are some positive signals to the AR/VR sector
On our discussion around venture capital - Anjney started his career on the VC side of the table, and then left to solve a major technical challenge in the VR/AR space. One of the topics I breach with him in this podcast is about his perceptions on venture now that he is on the opposite side of the table.
To Anjney's credit he is both candid with his response and thankful to those who have helped him in the past and present, but definitely has insight into what founders are dealing with on the other side of the table now. His experience has helped him navigate the landscape, which has landed him great backers like Benchmark and Index.
Some thoughts that resonated with me:
"Great investors can inflect you 100x or more, and bad investors can truly destroy value in your company."
"Because there has been a massive inflow of capital, there are a lot of pretenders out there. And a lot of founders don't know that."
"There are a lot of 'logo' shoppers out there, just trying to put the brand on the site."
I'm interested in the perception of investors from the entrepreneurs side, and these thoughts illustrate a sense I have for venture capital from the other side. We are a service business, and I think that VCs need to get better at management of expectations and higher quality service delivered to the entrepreneur on average.
By Adam Draper
I ponder as a VC.
It's a quick one minute read to make you think, smile, or laugh.
If you don't want these updates anymore, please unsubscribe here
If you were forwarded this newsletter and you like it, you can subscribe here
Powered by Revue