Discover more from Things I Write. ✍🏽
A weekly newsletter championing the peak of Human Endeavor and discussing the business of Venture Capital. Written by Adam Draper, Founder and MD of Boost VC. A PreSeed Fund for Deep Tech.
Over 1,000 subscribers
Steph Curry Rookie Card.
The 3rd Weekly Bitcoin Auction.
Auctions are denominated in USD, but paid in BTC.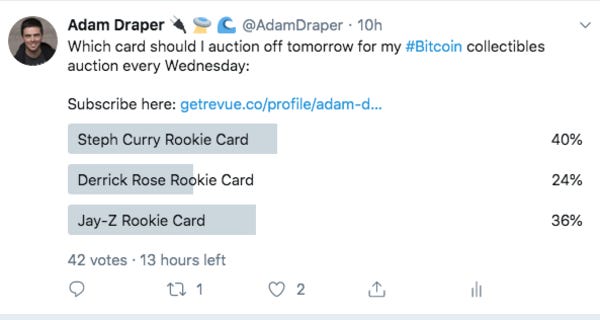 The twitter poll decided.
Ok, here it is! The only Steph Curry rookie card I own. I'm not sure you know this, but Steph Curry changed the game of basketball. The NBA league average number of 3 point attempts per game has nearly doubled since Steph Curry's rookie season from 18 to 32. That means that the entire league has decided it's ok to take excessively more 3 pointers, and that all points at the ridiculous range that Steph Curry has created for the game.
He broke the mental barrier around, "No that number of 3 pointers isn't possible." "No that release speed isn't possible."
You get to own a piece of history here.
Starting auction price: $10
By Adam Draper
I ponder as a VC.
It's a quick one minute read to make you think, smile, or laugh.
If you don't want these updates anymore, please unsubscribe here
If you were forwarded this newsletter and you like it, you can subscribe here
Powered by Revue